The Perfection Series from David Laboga Cables
The Tommy Emmanuel Special Edition cable is great for all instruments (electric guitars, bass guitars, electro- acoustic guitars, electric pianos, keyboards… instruments connected to amplifiers, effects-pedals, etc.)
Our purpose was to design cable which will be the answer for expectations of professional musicians. And so it is.
TE Cables delivers warm and selective tone. The highs are more natural which means that sound is very nice for ears. Cables gives fully professional tone which is the main attribute of DL products.
TE Cables are also available as the patch cables so You will be able to build big pedalboard without losing the signal quality of your tone.
While designing Tommy Emmanuel cable we decided to build it by using directional technology so it means that the signal goes from the sound source to the receiver. The connection should be done according to arrows signed on the jacks.
The directional technology is combined with the highest quality parts available in the market. The plugs are plated with the 24 karat gold. Every cable made in David Laboga manufacture as standard is soldered with 4% extra silver.
The diameter of this cable is 7 mm. It has a woven spiral wound screen which decreases the microphonics effect and there is a high efficiency of screening.
Also, the cable is double protected by a special tube to give it the maximum lifespan. Even though it is heavily protected, it is one of the most flexible cables on the market in it's class. These combinations provide a cable that doesn't get tangled up (like others on stage) and they simply don't break. We care about every detail so the longer cables are equipped with velcro tie to ease and speed up the winding process.
All cables are soldered with the highest grade silver – solder (4% fine silver content). The jack plugs are G&H (Ultra High Clarity) Gold Plated Plugs.
As all cables in DL, Tommy Emmanuel Cable has LIFETIME Warranty.
TE Cables no-comprise product proudly made in Poland.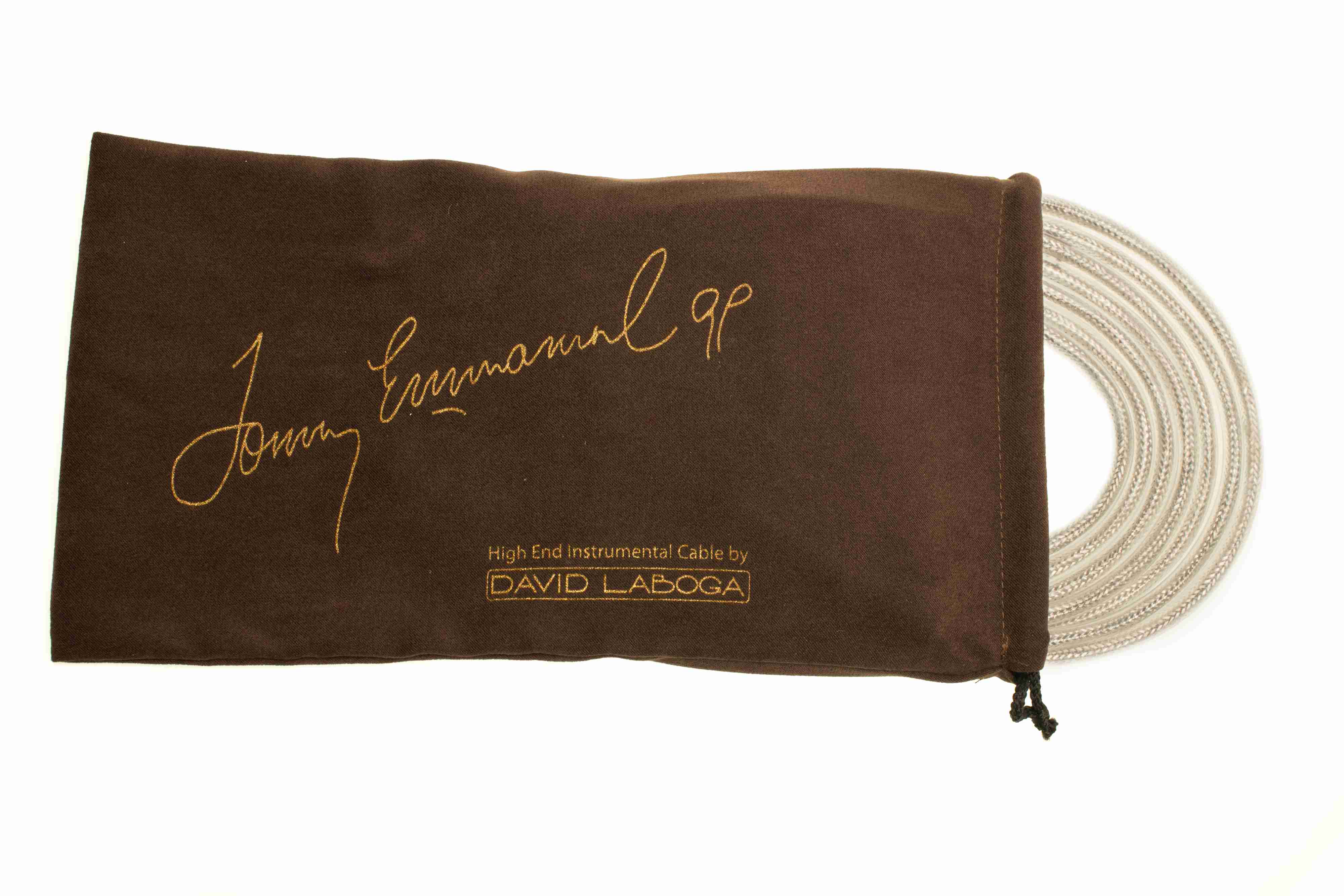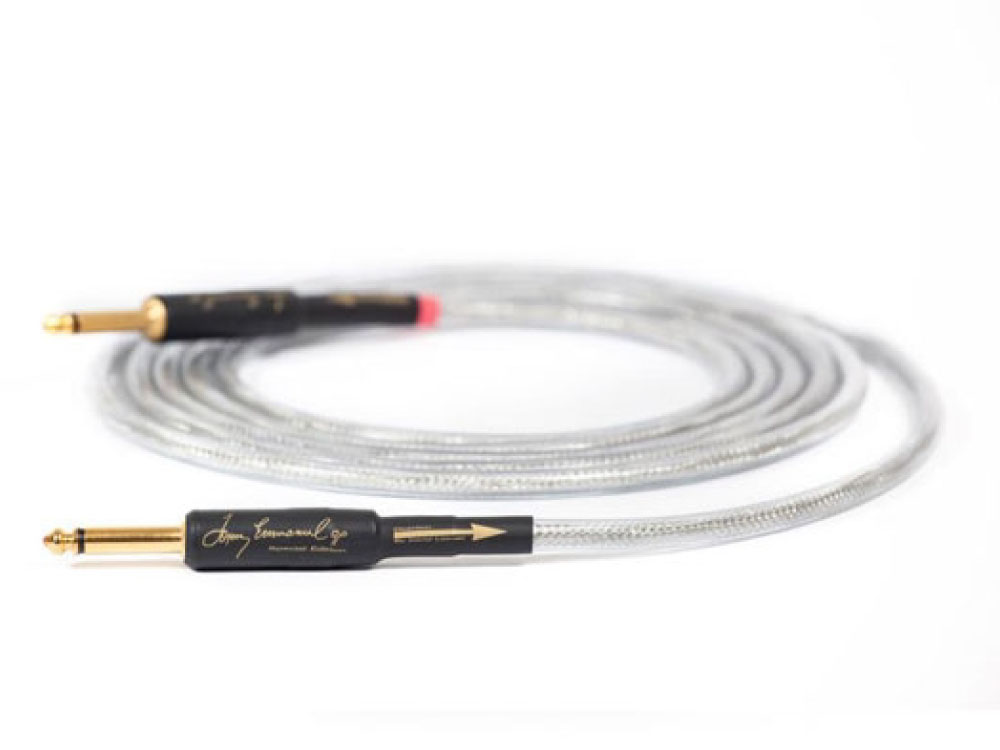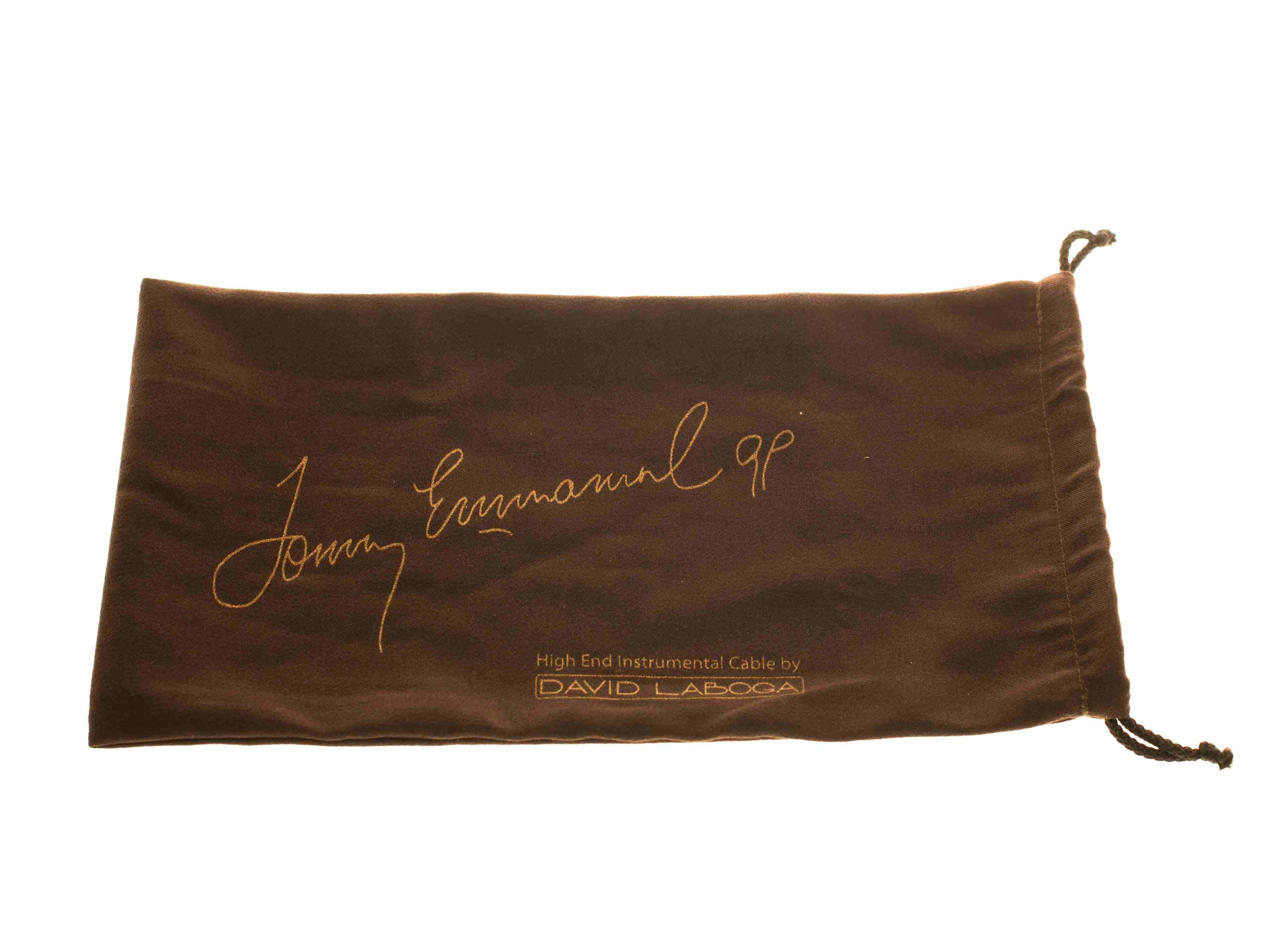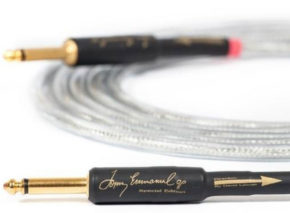 | | |
| --- | --- |
| Lenght [m] | 3 |
| Lenght [ft] | 10 |
| Jack plug in direction from the source | straight 1/4″ |
| Jack plug in direction to the reciever | straight 1/4″ |
| Product number | P30011TE |
| Price | 65,30 € |
| | |
| | |
| --- | --- |
| Lenght [m] | 3 |
| Lenght [ft] | 10 |
| Jack plug in direction from the source | 90° angled 1/4″ plug |
| Jack plug in direction to the reciever | straight 1/4″ |
| Product number | P30071TE |
| Price | 68,90 € |
| | |
| | |
| --- | --- |
| Lenght [m] | 4,6 |
| Lenght [ft] | 15 |
| Jack plug in direction from the source | straight 1/4″ |
| Jack plug in direction to the reciever | straight 1/4″ |
| Product number | P46011TE |
| Price | 71,30 € |
| | |
| | |
| --- | --- |
| Lenght [m] | 4,6 |
| Lenght [ft] | 15 |
| Jack plug in direction from the source | 90° angled 1/4″ plug |
| Jack plug in direction to the reciever | straight 1/4″ |
| Product number | P46071TE |
| Price | 76,10 € |
| | |
| | |
| --- | --- |
| Lenght [m] | 6 |
| Lenght [ft] | 19,7 |
| Jack plug in direction from the source | straight 1/4″ |
| Jack plug in direction to the reciever | straight 1/4″ |
| Product number | P60011TE |
| Price | 77,20 € |
| | |
| | |
| --- | --- |
| Lenght [m] | 6 |
| Lenght [ft] | 19,7 |
| Jack plug in direction from the source | 90° angled 1/4″ plug |
| Jack plug in direction to the reciever | straight 1/4″ |
| Product number | P60071TE |
| Price | 80,80 € |
| | |
| | |
| --- | --- |
| Lenght [m] | 8 |
| Lenght [ft] | 26,2 |
| Jack plug in direction from the source | straight 1/4″ |
| Jack plug in direction to the reciever | straight 1/4″ |
| Product number | P80011TE |
| Price | 85,60 € |
| | |
| | |
| --- | --- |
| Lenght [m] | 8 |
| Lenght [ft] | 26,2 |
| Jack plug in direction from the source | 90° angled 1/4″ plug |
| Jack plug in direction to the reciever | straight 1/4″ |
| Product number | P80071TE |
| Price | 89,20 € |
| | |
Instrumental cables / guitar cables – Tommy Emmanuel Cables
lenght
Jack plug in direction from the source
Jack plug in direction to the reciever
product number
[m]
[ft]

3

10
straight 1/4″
straight 1/4″
P30011TE
65,30 €
3
10
90° angled 1/4″ plug
straight 1/4″
P30071TE
68,90 €
4,6
15
straight 1/4″
straight 1/4″
P46011TE
71,30 €
4,6
15
90° angled 1/4″ plug
straight 1/4″
P46071TE
76,10 €
6
19,7
straight 1/4″
straight 1/4″
P60011TE
77,20 €
6
19,7
90° angled 1/4″ plug
straight 1/4″
P60071TE
80,80 €
8
26,2
straight 1/4″
straight 1/4″
P80011TE
85,60 €
8
26,2
90° angled 1/4″ plug
straight 1/4″
P80071TE
89,20 €
Patch Cables – TE patch series (direction) with GOLD plugs G&H
| | |
| --- | --- |
| Lenght [m] | 20 |
| Lenght [ft] | 0,7 |
| Jack plug in direction from the source | 90° angled 1/4″ |
| Jack plug in direction to the reciever | 90° angled 1/4″ |
| Product number | P02077TE |
| Price | 34,40 € |
| | |
| | |
| --- | --- |
| Lenght [m] | 30 |
| Lenght [ft] | 1 |
| Jack plug in direction from the source | 90° angled 1/4″ |
| Jack plug in direction to the reciever | 90° angled 1/4″ |
| Product number | P03077TE |
| Price | 34,40 € |
| | |
| | |
| --- | --- |
| Lenght [m] | 50 |
| Lenght [ft] | 1,6 |
| Jack plug in direction from the source | 90° angled 1/4″ |
| Jack plug in direction to the reciever | 90° angled 1/4″ |
| Product number | P05077TE |
| Price | 37,90 € |
| | |
| | |
| --- | --- |
| Lenght [m] | 100 |
| Lenght [ft] | 3,3 |
| Jack plug in direction from the source | straight 1/4″ |
| Jack plug in direction to the reciever | straight 1/4″ |
| Product number | P10011TE |
| Price | 48,70 € |
| | |
| | |
| --- | --- |
| Lenght [m] | 100 |
| Lenght [ft] | 3,3 |
| Jack plug in direction from the source | 90° angled 1/4″ |
| Jack plug in direction to the reciever | 90° angled 1/4″ |
| Product number | P10077TE |
| Price | 58,20 € |
| | |
| | |
| --- | --- |
| Lenght [m] | 100 |
| Lenght [ft] | 3,3 |
| Jack plug in direction from the source | 90° angled 1/4″ |
| Jack plug in direction to the reciever | straight 1/4″ |
| Product number | P10071TE |
| Price | 53,40 € |
| | |
| | |
| --- | --- |
| Lenght [m] | 100 |
| Lenght [ft] | 3,3 |
| Jack plug in direction from the source | straight 1/4″ |
| Jack plug in direction to the reciever | 90° angled 1/4″ |
| Product number | P10017TE |
| Price | 53,40 € |
| | |
Patch Cables – TE patch series (direction) with GOLD plugs G&H
lenght
Jack plug in direction from the source
Jack plug in direction to the reciever
product number
[cm]
[ft]
20
0,7
90° angled 1/4″
90° angled 1/4″
P02077TE
34,40 €
30
1
90° angled 1/4″
90° angled 1/4″
P03077TE
34,40 €
50
1,6
90° angled 1/4″
90° angled 1/4″
P05077TE
37,90 €
100
3,3
straight 1/4″
straight 1/4″
P10011TE
48,70 €
100
3,3
90° angled 1/4″
90° angled 1/4″
P10077TE
58,20 €
100
3,3
90° angled 1/4″
straight 1/4″
P10071TE
53,40 €
100
3,3
straight 1/4″
90° angled 1/4″
P10017TE
53,40 €