Tommy Emmanuel / NEW DIMENSION
Since 2011, we've been making Tommy's signature guitar cables – Special Edition. Special designed for his preferences.
They have been recognized as one of the best cables for electroacoustic instruments in the market.
We have learned even more since year 2011. We make cables in the AUDIO sector for the most demanding customers of the so-called Audiophile. In 2019, we decided that we need to use our new knowledge and implement it in guitar cables, to make cables that the guitar market has not yet experienced, but this time we focused on cables dedicated for Electroacoustic Instruments, because there is no cable that will work for all styles , each style has different needs, we've created cables that support each style. And its very logical, high gain amps won't sound good in blues, and offside .
Eg. our newest product for music BLUES, POP, ROCK for Hard Rock – this is the PRECISION series, these styles have a lot in common when it comes to equipment.
We have created a dedicated series of SELECTIVE PRO cables for Heavy Metal, which is ultra selective and does not colorized, also great for Studio Recording.
For Tommy, we wanted to design a cable that would emphasize all of its sounds extracted from the guitar, the smallest noise, so the cable is very responsive. Tommy can play like 3 guitarists at once, not to mention knocking etc :), so we wanted to make a cable that would be able to do in very high level separation, so that the listener and musician could hear each element separately but together, more 3D sound.
Highs more natural , more nicer for ears.
And we did it!
According to us and not only, this is one if not the best cable for electroacoustic instruments on the market. You need to test it yourself, otherwise you won't believe how much our cables can improve the sound that comes out of the guitar.
Together with Tommy, we decided to implement a new model, we called it NEW DIMENSION.
You will hear the difference from first note taken from your instrument.
The diameter is 8 mm. The plugs are plated with the 24k gold. Just like every cable made in our manufacture DL / Tommy Emmanuel – New Dimension is
soldered with 4% extra silver and it is made of highest quality parts available in the market.
It has a woven spiral wound screen which decreases the microphonic effect and there is a high efficiency of screening . Also, the cable is double protected by a special tube to give it the maximum lifespan. Even though it is heavily protected, it is one of the most flexible cables on the market in it's class. These combinations provide a cable that doesn't get tangled up (like others on stage) and they simply don't break. Additionally used Pearl sleeve which make the cable even more reliable. Beside the killer sound it has a killer look to!
The cable comes in different lengths, there are also cables for effects to preserve the highest quality of sound.
Cables are equipped with Velcro tie.
As all cables in DL, Tommy Emmanuel Cable has LIFETIME Warranty.
TE Cables no-comprise product proudly made in Poland.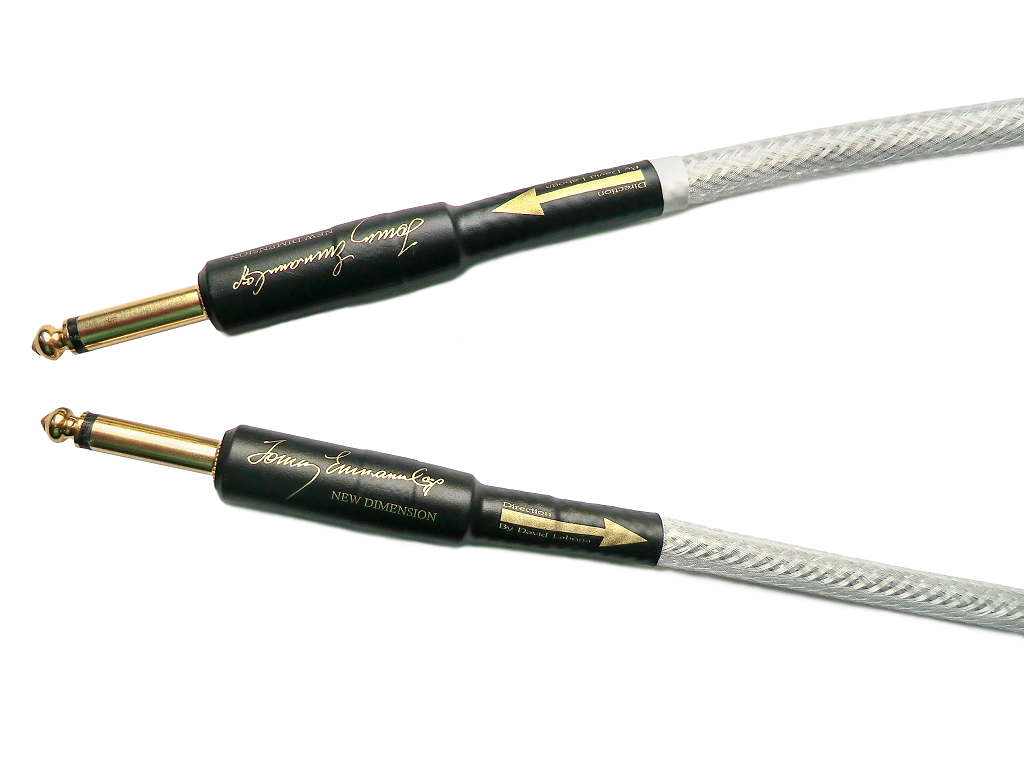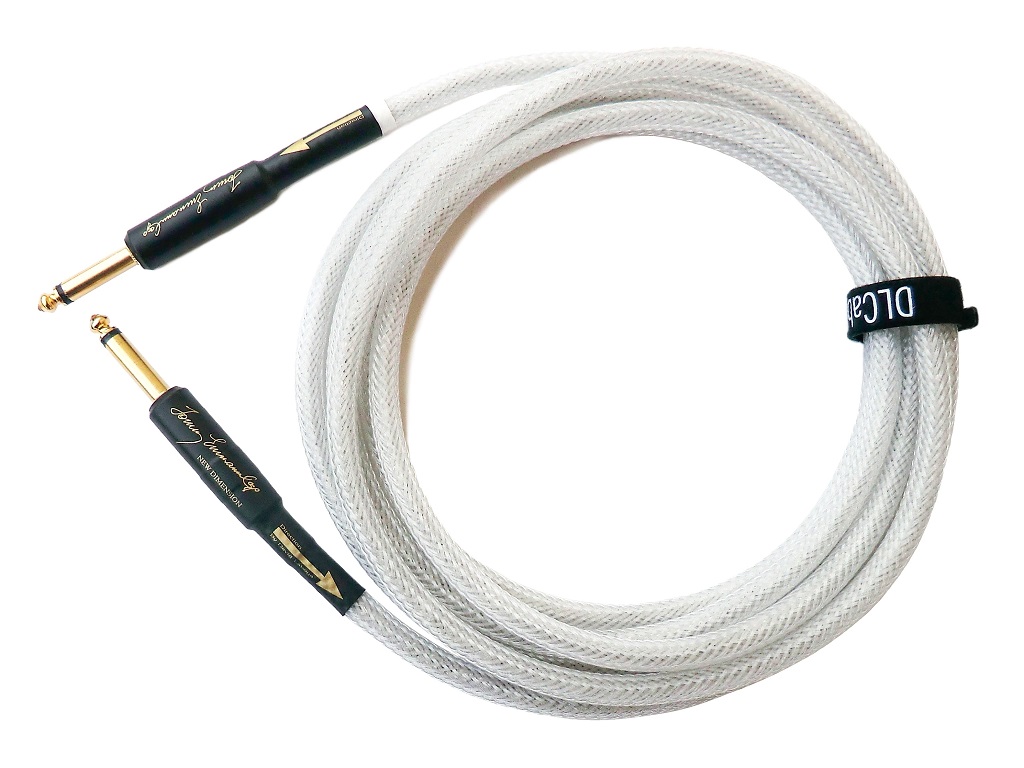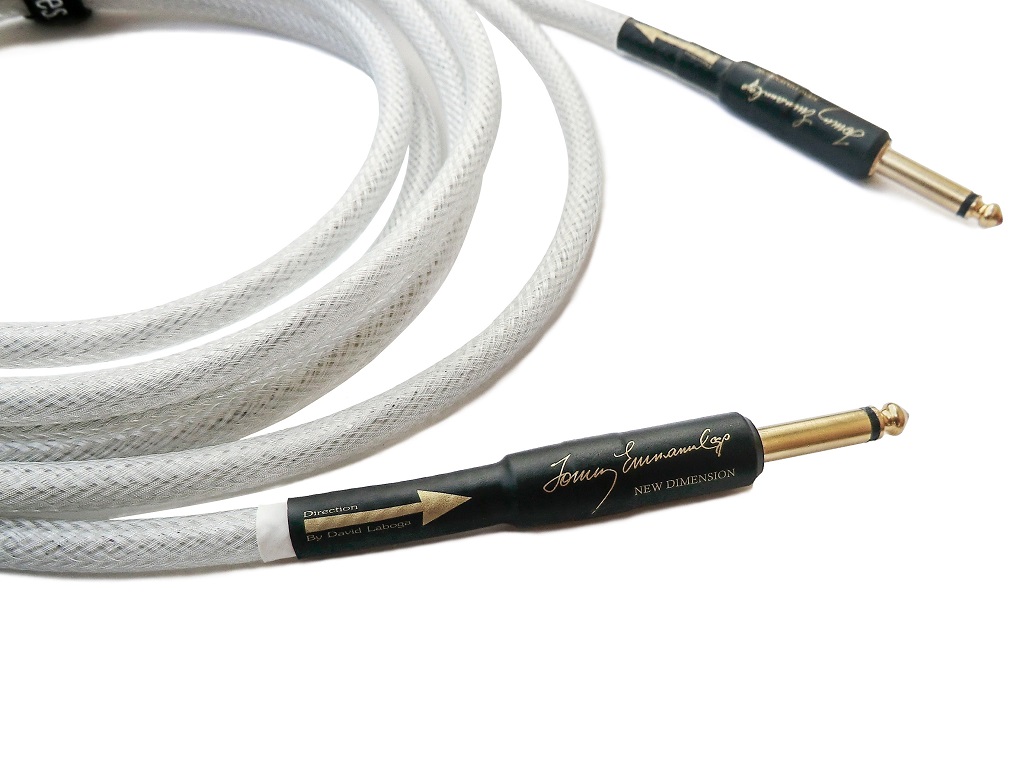 | | |
| --- | --- |
| Lenght [m] | 3 |
| Lenght [ft] | 10 |
| Jack plug in direction from the source | straight 1/4″ |
| Jack plug in direction to the reciever | straight 1/4″ |
| Product number | ND30011TE |
| Price | 76,90 € |
| | |
| | |
| --- | --- |
| Lenght [m] | 3 |
| Lenght [ft] | 10 |
| Jack plug in direction from the source | 90° angled 1/4″ plug |
| Jack plug in direction to the reciever | straight 1/4″ |
| Product number | ND30071TE |
| Price | 81,90 € |
| | |
| | |
| --- | --- |
| Lenght [m] | 4,6 |
| Lenght [ft] | 15 |
| Jack plug in direction from the source | straight 1/4″ |
| Jack plug in direction to the reciever | straight 1/4″ |
| Product number | ND46011TE |
| Price | 86,90 € |
| | |
| | |
| --- | --- |
| Lenght [m] | 4,6 |
| Lenght [ft] | 15 |
| Jack plug in direction from the source | 90° angled 1/4″ plug |
| Jack plug in direction to the reciever | straight 1/4″ |
| Product number | ND46071TE |
| Price | 91,90 € |
| | |
| | |
| --- | --- |
| Lenght [m] | 6 |
| Lenght [ft] | 19,7 |
| Jack plug in direction from the source | straight 1/4″ |
| Jack plug in direction to the reciever | straight 1/4″ |
| Product number | ND60011TE |
| Price | 101,90 € |
| | |
| | |
| --- | --- |
| Lenght [m] | 6 |
| Lenght [ft] | 19,7 |
| Jack plug in direction from the source | 90° angled 1/4″ plug |
| Jack plug in direction to the reciever | straight 1/4″ |
| Product number | ND60071TE |
| Price | 106,90 € |
| | |
| | |
| --- | --- |
| Lenght [m] | 8 |
| Lenght [ft] | 26,2 |
| Jack plug in direction from the source | straight 1/4″ |
| Jack plug in direction to the reciever | straight 1/4″ |
| Product number | ND80011TE |
| Price | 115,90 € |
| | |
| | |
| --- | --- |
| Lenght [m] | 8 |
| Lenght [ft] | 26,2 |
| Jack plug in direction from the source | 90° angled 1/4″ plug |
| Jack plug in direction to the reciever | straight 1/4″ |
| Product number | ND80071TE |
| Price | 120,90 € |
| | |
Instrumental cables / guitar cables – Tommy Emmanuel Cables
lenght
Jack plug in direction from the source
Jack plug in direction to the reciever
product number
[m]
[ft]
3
10
straight 1/4″
straight 1/4″
ND30011TE
76,90 €
3
10
90° angled 1/4″ plug
straight 1/4″
ND30071TE
81,90 €
4,6
15
straight 1/4″
straight 1/4″
ND46011TE
86,90 €
4,6
15
90° angled 1/4″ plug
straight 1/4″
ND46071TE
91,90 €
6
19,7
straight 1/4″
straight 1/4″
ND60011TE
101,90 €
6
19,7
90° angled 1/4″ plug
straight 1/4″
ND60071TE
106,90 €
8
26,2
straight 1/4″
straight 1/4″
ND80011TE
115,90 €
8
26,2
90° angled 1/4″ plug
straight 1/4″
ND80071TE
120,90 €
Patch Cables – TE patch series (direction) with GOLD plugs G&H
| | |
| --- | --- |
| Lenght [m] | 20 |
| Lenght [ft] | 0,7 |
| Jack plug in direction from the source | 90° angled 1/4″ |
| Jack plug in direction to the reciever | 90° angled 1/4″ |
| Product number | ND02077TE |
| Price | 36,90 € |
| | |
| | |
| --- | --- |
| Lenght [m] | 30 |
| Lenght [ft] | 1 |
| Jack plug in direction from the source | 90° angled 1/4″ |
| Jack plug in direction to the reciever | 90° angled 1/4″ |
| Product number | ND03077TE |
| Price | 39,90 € |
| | |
| | |
| --- | --- |
| Lenght [m] | 50 |
| Lenght [ft] | 1,6 |
| Jack plug in direction from the source | 90° angled 1/4″ |
| Jack plug in direction to the reciever | 90° angled 1/4″ |
| Product number | ND05077TE |
| Price | 42,90 € |
| | |
| | |
| --- | --- |
| Lenght [m] | 100 |
| Lenght [ft] | 3,3 |
| Jack plug in direction from the source | straight 1/4″ |
| Jack plug in direction to the reciever | straight 1/4″ |
| Product number | ND10011TE |
| Price | 36,90 € |
| | |
| | |
| --- | --- |
| Lenght [m] | 100 |
| Lenght [ft] | 3,3 |
| Jack plug in direction from the source | 90° angled 1/4″ |
| Jack plug in direction to the reciever | 90° angled 1/4″ |
| Product number | ND10077TE |
| Price | 66,90 € |
| | |
| | |
| --- | --- |
| Lenght [m] | 100 |
| Lenght [ft] | 3,3 |
| Jack plug in direction from the source | 90° angled 1/4″ |
| Jack plug in direction to the reciever | straight 1/4″ |
| Product number | ND10071TE |
| Price | 76,90 € |
| | |
| | |
| --- | --- |
| Lenght [m] | 100 |
| Lenght [ft] | 3,3 |
| Jack plug in direction from the source | straight 1/4″ |
| Jack plug in direction to the reciever | 90° angled 1/4″ |
| Product number | ND10017TE |
| Price | 71,90 € |
| | |
Patch Cables – TE patch series (direction) with GOLD plugs G&H
lenght
Jack plug in direction from the source
Jack plug in direction to the reciever
product number
[cm]
[ft]
20
0,7
90° angled 1/4″
90° angled 1/4″
ND02077TE
36,90 €
30
1
90° angled 1/4″
90° angled 1/4″
ND03077TE
39,90 €
50
1,6
90° angled 1/4″
90° angled 1/4″
ND05077TE
42,90 €
100
3,3
straight 1/4″
straight 1/4″
ND10011TE
36,90 €
100
3,3
90° angled 1/4″
90° angled 1/4″
ND10077TE
66,90 €
100
3,3
90° angled 1/4″
straight 1/4″
ND10071TE
76,90 €
100
3,3
straight 1/4″
90° angled 1/4″
ND10017TE
71,90 €